PULL RIGHT IN!
Rainey Alignment & Tire Company
"One of Tifton's Oldest & Most established Businesses with over 21 years of Experience"
111 Magnolia Dr.
Tifton, Georgia 31794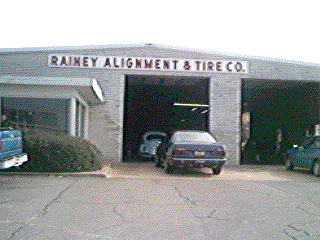 We are located 2 blocks off Interstate 75 , on Magnolia Drive.
See Map
Find Us FAST In The Yellow Pages!


Your personal checks welcome here.

Rainey Alignment & Front End Shop is a full service front end and brake shop, In our 21st year of friendly & honest service.
Here are some of our services...
Tires, Front end alignment, Shocks & Struts, CV joints, & brake repair.

WE EMPLOY ASE & STATE CERTIFIED TECHNICIANS
Check Out These Links!

AUTO SAFETY TIP
"Don't use antilock brakes in the same way as older, conventional brakes. Never "pump" the pedal of an antilock braking system (ABS). In emergency braking, apply hard, steady pressure. You should feel and perhaps hear a rapid pulsation from the pedal--that's normal."
.